Miss Marianna De Lahaye
She was a French illusionist who also worked with trained birds. Her poster is generally dated on auction sites as 1898. Her costume is more circus appropriate than stage. The text on the poster translates as "First time in this city. Marianna Theater. Fairground," so maybe it was under canvas. Below that it says, roughly, "The Wonderful Work of the Trained Cockatoos"
---
Princess Delawarr
One of the more intriguing posters- she apparently does mind reading from within a lion's cage, and while blindfolded. From the poster she also appears to be a lion tamer, a good idea if you are in a cage with them while trying to read minds, and it would be handy to read the lion's minds as well. While her name is not on this poster, a note on the Christian Fechner Magic Collection auction site points out there is another poster exactly like this with the name Princess Delawarr on it. I sure would love to know more about her. By the way, the first woman lion tamer was probably American Rose Flanders Bascom, who was working as a lion tamer as early as 1905. Her career lasted only ten years, as she died young due to an infection from a lion scratch.
---
Durga
I could find nothing on Durga. Her name is tough to search as it is the name of a Hindu Goddess and we don't have her real name. From the poster, she is clearly an illusionist.
---
Mademoiselle Dicka
We have two posters for her but absolutely nothing beyond that. Her outfits seem a bit circus-like, but other than that, her posters provide no additional clues. All we know is that she is Mysterious, Infernal, Inimitable, and obviously French.
---
Elsa Amadria
Elsa is a bit of a mystery. I found some Internet sites that claim she was the top rated female French magician at the turn of the Twentieth century. I could find no substantiation of that claim, or that she ever even existed other than through this poster. Some claim it might even be an advertising poster for a product, but I doubt that.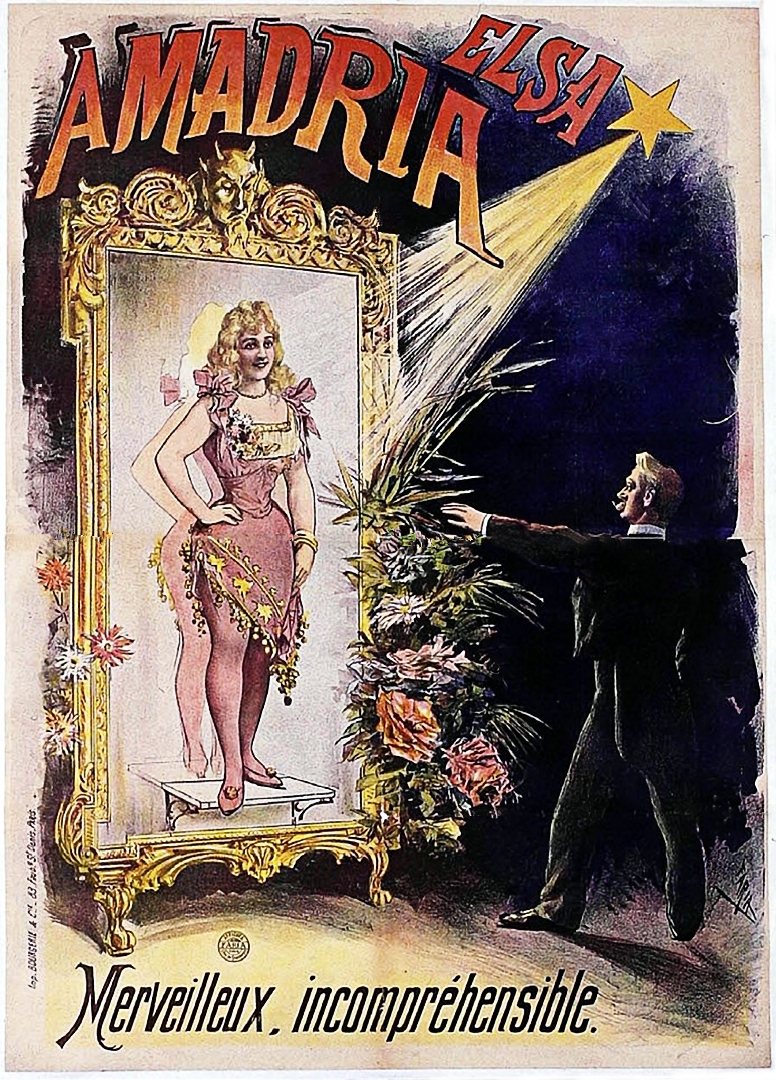 ---
Miss Ther
Miss Ther is also a bit of a mystery. It looks like an interesting show, but beyond the images on the poster, I found nothing else. The poster reads "Miss Ther, the magician, in her latest creation- The boudoir of a Parisienne."
Fatma
She was the performing partner of a magician billed as Retta. His real name was Obradovich Sreta (1888-1942). Very little is known about him, and virtually nothing about Fatma beyond what we learn in the poster. Sreta had 23 siblings, but lost his parents when he was just 7 and had to fend for himself. He first married in 1909 and had a more reasonable two children. His first wife died in 1915, which was before he focused on debunking spiritualism in his show, so I think we can safely assume that Fatma was his second wife, who he married just a year after the death of his first wife. It was after this that he introduced "The Dark Room", which was probably a staged seance. He founded his own theater in 1921, which failed, and they were back on the road. The show was billed as Scientific Mysterious Seances and Amusements. From the top left panel we see that Fatma takes on the role of a medium. She is featured by herself in the top right panel. She seems more partner than assistant, and would have been a performer in her own right in mediumistic presentations.