Howard Thurston's first wife was a 16 year-old singer and dancer, Grace Texola. She was with him during the lean years. By his own admission he was not a kind husband. To make ends meet, the two resorted to doing cons. This was easy for Thurston, who was a grifter at heart with a criminal past. It was often Grace, doing her own dance act, that helped keep them afloat. Temperamental, suspicious, jealous, and controlling, Thurston was no great shakes as a husband. When he divorced her after achieving success, I imagine she was probably a bit relieved.
Beatrice Fleming Foster
His next wife was Beatrice Fleming Foster, called "Tommy." She gets a brief mention in Thurston's bio in Christopher's Illustrated History of Magic as his fiancee for two years. He does not mention that they were married in 1910 and divorced in 1914. He also does not mention that she performed magic in the show as "The Queen of Magic." Actually, a lot of women magicians used that same title.
It took Thurston only three months to remarry, this time to Nina Leotha Fielding Allison. Leotha was a showgirl, a dancer, and a comedian, but she did not become the new Queen of Magic. She retired from performing instead. According to an article in the 1925 Buffalo Courier, she acted as "manager, director, costumer, critic and companion." Thurston was never hesitant to promote the women in his show in his publicity.
Jane Thurston
Thurston legally adopted her daughter, the five-year-old Jane (1909-1994), after they were married. He was a doting father. She was never an onstage assistant, but became a principle with her own act in 1928 at the age of 19, appearing as a dancer, singer, and magician. Much to her shock, she saw that the marquee read "Thurston, The World's Greatest Magician – Co-Starring His Daughter Jane."
She did a full third of the show, including singing a song written just for her, "My Daddy is a Hokus Pokus Man. Thurston was famous for his throwing cards, and she had hers printed with him on one side and her on the other with the text, "Jane Thurston – She takes after her Dad."
She also took after her dad in having a number of spouses. She married Harry Harris in 1930. Like her adopted father, he had anger management issues, was an alcoholic, and even assaulted Thurston. The marriage ended in 1933.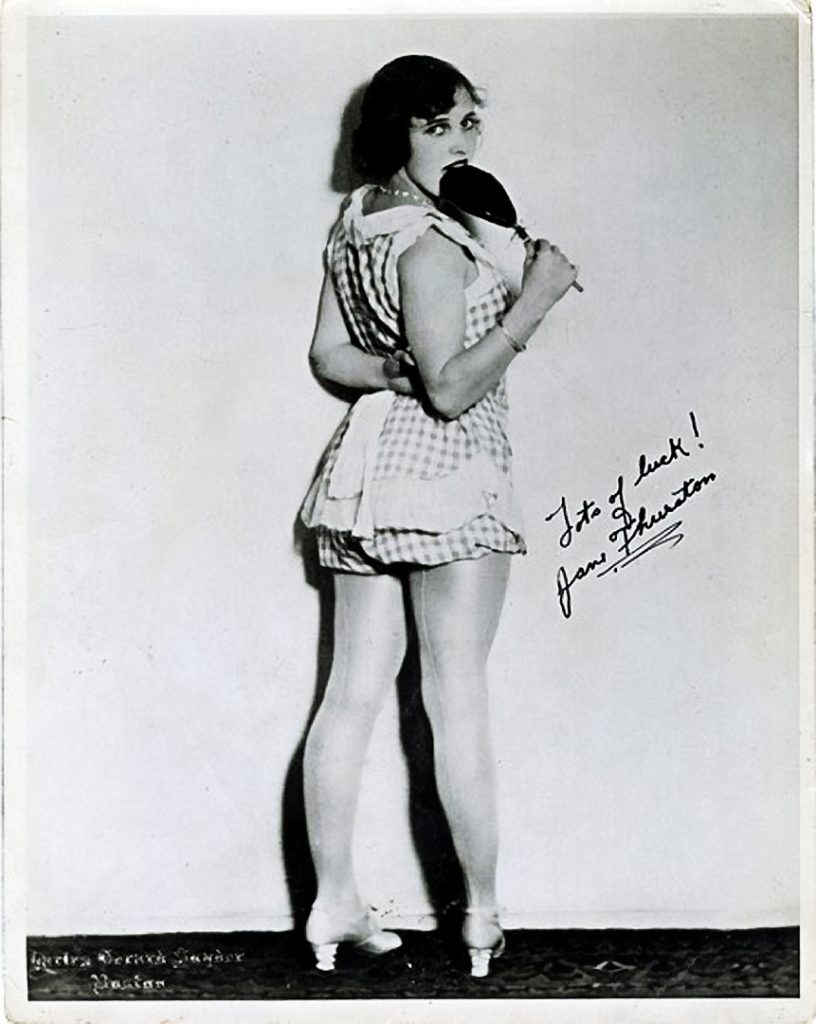 Leotha passed away the next year of a heart attack. Thurston never fully recovered from her loss. Still, he liked being married, and just a year later he had married the former wife of his chauffeur and his then assistant Pauline Mark. He was 66, while she was 40 years younger. I don't know what that was about, but it did not make Jane happy.
It would be the shortest of his marriages. Just five months after getting married, Thurston suffered a stroke. Two years after his loss of Leotha and a year after the stroke that ended his performing career, he passed away from pneumonia.
Jane worked in the Thurston show until it ended in 1935 after Thurston's stroke. After Thurston passed away in 1936, Jane inherited all of his equipment. She worked to create a grand illusion show, but eventually gave up and did a nightclub act as a magician, singer and dancer.
Jane ended her magic career in 1941. A fall on a sidewalk in New York put her in a coma, and she passed away in 1994 at the age of 85.